The 'Users', 'Groups', and 'Convert' menus.
Common shortcuts to functions you do in the user manager. Note the restore a user function which will restore a user from an automatic backup CrushFTP is taking for you. There may be times when this is critical to have and remember it exists. You can configure this setting on the misc tab of the server prefs.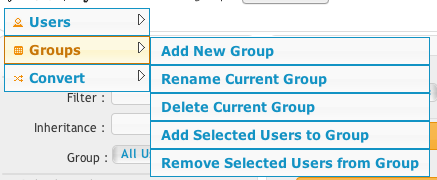 Add new attachment
Only authorized users are allowed to upload new attachments.
List of attachments
«
This particular version was published on 29-Dec-2020 05:25 by Ben Spink.
G'day (anonymous guest)
Log in